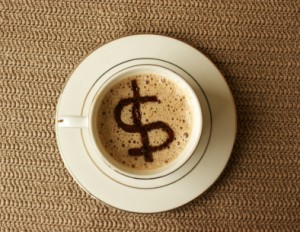 The price of coffee hit an all-time high two years ago in May.
Since then, the price has continued to drop, even hitting a four year low of $1.15 per pound.
If all that is expected to continue, why are loyal coffee fans still feeling the heat at cafe cash registers?
One of the main reasons? Disposable income.
Consumers who frequent coffee shops like Starbucks, Seattle's Best, Caribou, etc. tend to be middle to upper income earning households. Buying a custom coffee everyday is termed an "affordable luxury" meaning a few bucks a day allows us a glimpse into how the elite live.
There's also the factor that having a drink, or frequenting Starbucks has a certain social status associated with it. Whether in a cup holder or on their desks, people want to be seen drinking from a branded cup, not that dirty mug at the office that gets washed (maybe) once a month.
The problem with that trend is companies like Starbucks and Green Mountain Coffee are bringing in hefty profits, as the price of coffee continues to decline but the actual finished good price scales upward.
And who blames them?
They're providing a service that millions of people are willing to pay for. A literal example of the free market system at work.
No judgment being passed here, but take a step back and consider the situation if your monthly budget buys you less and less.
Personally, I've switched to brewing at home, buying bags of premium coffee and hanging out with Mr. Coffee. Sure it still leads to profits for the big boys, but it beats the heck out of eight dollars plus a day for a Soy Cinnamon Dolce Latte which has become more a ritual than a pleasure.
If however you're fine with paying the "trendy" coffee shops to do it for you, and don't mind them NOT adjusting prices that would benefit you, by all means that is your right as a consumer. Continue sipping as usual.
Maybe you can skip tipping your barista though, and suggest they take the issue to corporate asking Mr. Schultz to pony up a bit of his bonus.
Just a thought.