What started as a venture into a unique wheelchair cup holder, has led OH 4 to something so much bigger. We've done our homework and although the project first seemed impossible, with a little follow through that impossibility has become a reality. To our surprise the unique design of this "nearly" universal product quickly evolved past just wheelchairs. To date this great cup holder has worked with wheelchairs, stadium armrests, airline armrests, some office chairs, in vehicles with captains chairs, and also on carseats. We're always finding new places to use our Nearly Universal Cup Holder!
Playing light on the situation, we realize it won't fit every situation. We put the "nearly" in there at an attempt at humor. We've tested it on stadium seating, scooters, airplane armrests, and some office chairs, all with successful results. As long as the armrest you're attempting to use is relatively flat on top with enough space underneath to wrap the Velcro straps around, this holder will liberate you from your cup.
As we said above, the real problem we faced was the variety of armrests that are used in everyday applications. We've taken measures in our design to blend functionality with variety. Your seat, or more importantly your armrest, should work and we urge you to view our photos to get a sense of the wide range of armrests. The "Nearly" Universal OH also mounts on the left or right side, so as long as there's nothing directly in front of the armrest itÌs really your preference. Also included are pieces of foam padding. Use none, one, or two of these pads to allow the "Nearly" Universal OH a better application to your armrest. (We recommend at least one to establish a sturdy grip between your armrest and your cup holder.)
Made of a lightweight plastic, the "Nearly" Universal OH is durable, and rumored to be able to withstand being run over by your car (although we don't really recommend it). If used properly, this handy cup holder can last indefinitely, which also means its dishwasher safe for any messy folks who happen to be reading this. (We know it goes without saying, but remove the foam padding before the dishwasher.) Our product is recycled and recyclable, and so is the packaging. These are just a few more features that we're proud of, and hope add to the enjoyment of your NEW functional solution.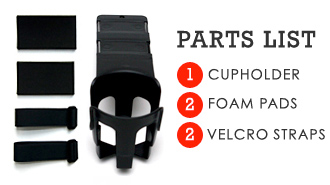 You can purchase The Nearly Universal OH Cup Holder on Amazon
for $19.95 and on Amazon UK for our European customers. You can also purchase right here on our website with PayPal using the Buy Now button. Are you looking for wholesale or bulk pricing? Head over to our Contact page and drop us a line.