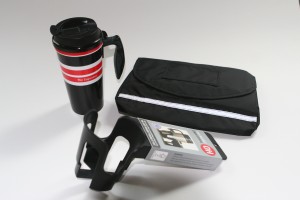 Happy Summer!
Wanting to kickoff July right, and as more and more people look for a solution to carrying those much needed cold beverages this summer, we wanted to run a contest.
The prize? An OH 4 Summer Bundle, made up of:
1.) The "Nearly" Universal OH – Cup or Drink Holder

2.) 16 oz. Cuperator Travel Mug
3.) Standard Saddle Bag
All three items can be used for mobility or travel purposes and worth $80!
Interested?
It's easy to enter, and all you have to do is "like us" on Facebook.
"Nearly" Universal OH Facebook Page
That's it.
You have until 11:59pm EST Saturday to enter, and we'll pick a winner on early next week.
Good luck!