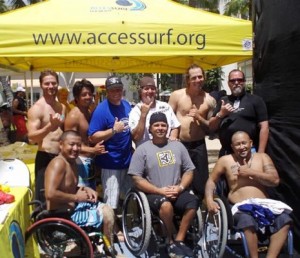 Travel can be a stressful experience for anyone. People with disabilities face a variety of challenges in addition to the regular stresses of navigating transportation and hotel accommodations. Trans-world expeditions may seem impossible, but a variety of destinations make it easier for people with disabilities to enjoy a vacation on the other side of the globe.
An article by Australian reporter, Angela Saurine provides readers with a variety of ideas for accessible vacations not only in Australia, but around the world. Check out these accessible travel opportunities overseas.
Hawaii
If you're looking for an adventure, there are a few organizations in Hawaii that specialize in disability travel and activities. AccessSurf is a nonprofit organization that provides adaptive surfing instruction and therapeutic educational programs. According to their website, AccessSurf's participants "range in ages from 3 to 83 and have included paraplegics, quadriplegics, amputees, cerebral palsy, blind, autism, multiple sclerosis, downs syndrome, and other."
To make travel arrangements, Saurine recommends a specialized Hawaiian travel agency for people with disabilities called Access Aloha. There's a variety of options for travel arrangements through Access Aloha including wheelchair van rentals, accessible accommodations, tours and cruises.
Bali, Indonesia
Another accessible vacation Saurine recommends is a trip to Bali, Indonesia, specifically to Villa G at Ellora. This accommodation is wheelchair friendly with no stairs and has hoists for the swimming pool and bedrooms.
South Pacific Cruise
If you've dreamed of exploring the South Pacific, all Australian-based P&O Cruises and Princess Cruises have several wheelchair accessible options. There are also ramps and lifts on the ships, in addition to special devices to communicate with hearing-impaired passengers.
Hong Kong
Hong Kong has accessible trains, train stations and accessible hotel options. If you're looking for recreational activities in Hong Kong, Saurine recommends using Easy Access Travel to find activities.
London, UK
While London isn't completely accessible, the city has made many improvements for people with disabilities. If you're traveling to London for the Olympics and Paralympics, you might want to check out Inclusive London for a list of accessible accommodations. All Olympic sporting venues are fully accessible.
For more details about accessible travel to other countries, including Australia, read Saurine's article. There is also a variety of travel resources for hundreds of travel destinations on the website Gimp on the Go.
If you're headed overseas this summer, don't forget to bring your "Nearly Universal" OH Cup Holder. This cup holder is designed to make travel for people with disabilities more manageable, fitting a variety of armrests, including wheelchairs, scooters, other mobility aids and airline armrests.